Ok,so if you havent heard,there are going too be two secret bot's released in TKO,along with
Van Kleiss
,
Bobo Haha
,
Clockwork
,and
Agent Six
.Ok,so I looked around a few website's,found some proof,and quickly scurried to this site to write a blog about the two secret bot's.Ok,so the secret bot's are going to be
Upgrade Rex
and
Shocksquatch
.And,teh appearence's were released,too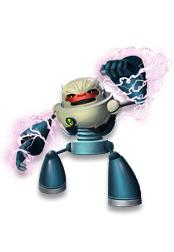 ! Ok,so Shocksquatch is apparently an electric yeti(Oh come on,Dwayne McDuffie.We know you can do better with these aliens.) and
Upgrade
merged with
Rex
,creating yet ANOTHER machine for Rex.